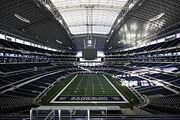 Cowboys Stadium, the third-largest stadium in the league, is the home of the Cowboys. It can seat around 80,000 and even over 100,000 sometimes.
Construction & features
Edit
The stadium is located in Tarrant County, the first time the Cowboys called a stadium home outside of Dallas County. It was completed on May 29, 2009 and seats 80,000, but is expandable to seat up to 100,000. Cowboys Stadium is the largest domed stadium in the world.
A highlight of Cowboys Stadium is its gigantic, center-hung high-definition television screen, the largest in the world. The 160 by 72 feet (49 by 22 m), 11,520-square-foot (1,070 m2) scoreboard surpasses the 8,736 sq ft (812 m2) screen that opened in 2009 at the renovated Kauffman Stadium in Kansas City, Missouri as the world's largest. The stadium hosted Super Bowl XLV in 2011, as the Packers beat the Steelers 31-25, giving Green Bay its unprecedented thirteenth NFL championship.
Nicknames
Edit
There are many nicknames for this stadium, but one of the most common is the Jerrydome, after Cowboys owner, president, and GM Jerry Jones. Other nicknames refer to him.
Megacore Location
Edit
The episode does not mention where the megacore was, and when it was found, it was inside a blitz bot.