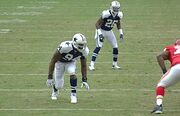 DeMarcus Ware

Some attributes

First
College: Troy
Second
Drafted: 2005, first round, eleventh pick
Third
Career: DAL 2005-pres.

Other attributes
DeMarcus Ware
is a defensive tackle for the Cowboys. He stands 6'4" and weighs 260 pounds.
Career highlights
Edit
Ware has been elected to seven Pro Bowls and has started all but one game in his eight-year career. He led the NFL in sacks in 2008 and 2010. 
In episode 2
Edit
When he appeared on the show, the Cowboys were playing their hated rivals, the Washington Redskins. With Robert Griffin III not playing, the Cowboys are favored to win. In the fourth quarter and the Cowboys up by a field goal, Ware sacks Washington quarterback Rex Grossman and forces him to fumble. Ware then scoops up the fumble and takes it to the house.
This was the call from Rich & Michael:
"Grossman, back to pass...looking, looking, now here comes Ware and he goes down! The ball is loose! DeMarcus Ware scoops it up, he's at the thirty, the twenty, the ten, five, endzone! Touchdown, Cowboys! Oh my, what a play!"
Later, when his statistics are read, strangely, the NFL Films narrator does not read them. Instead a news reporter who is interviewing Ware says, "I'm here with DeMarcus Ware, six-time Pro Bowl selection..."