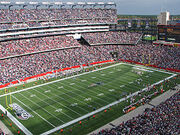 Gillette Stadium is the home of the Patriots. It was opened in 2002 and seats over 68,000 people.
The main feature people notice is what is beyond one of the scoreboards. There is a replica bridge modeled after the Longfellow Bridge and a lighthouse, representing nearby Cape Cod.
Gameday Atmosphere
Edit
This team has a rabid fanbase and a number of gameday features. When the Pats make a first down, a foghorn is blasted. Along the sidelines are several minutemen who hold muskets. They fire the muskets when the Pats score, and also before the game. Before the kickoff, a pregame montage is shown, accompanied by the 1981 AC/DC hit For Those About To Rock. When Brian Johnson yells "FIRE!" the muskets are shot.
Megacore Location
Edit
It is located in a vault below the stadium that contains New England's three Lombardi Trophies. The guardians break into the vault and use one of the trophies to K.O. a Blitz Bot.